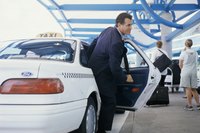 Time is money, no matter what business you practice. When you travel during regular business hours, you use time that would otherwise be spent on work for your company. Charging for travel time ensures that your travel costs are covered and that the potential money you could make from other tasks is partially covered. Keep open communication with your clients regarding all travel time costs.
Choose the rate you want to charge for travel time before creating contracts or negotiating with the customer. One rate for travel time could be 50 percent of your hourly rate. If you work on salary, calculate the amount of money you make per hour. Fifty percent may seem like a lot, but remember that you cannot work for other clients during the time you spend on trains, planes or automobiles.
Negotiate travel time as one of the elements of your contract. Specify what travel time will be included; generally, this will include travel to the client's office and facilities, and to meetings with the client. Be sure to include any likely travel costs you will incur in filling the contract, but don't include normal commuting.
Keep a logbook that precisely details your travel time. For example, if you travel by plane, log the time it takes to check in, go through security, wait at the gate, fly and travel at your destination to your client. The logbook is not only for your records; your client may ask to see exactly how the travel time adds up. The logbook may also come in handy when you file your tax deductions at the end of the year.
Calculate your total travel time at the end of your business trip and add the travel cost on the invoice for your client. Travel time is part of the contract's cost and is paid for when your client pays the total bill. Do not charge the travel time separately; include the amount in the final total.