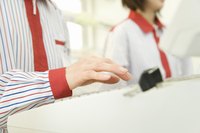 People generally avoid talking about retail shrinkage. Most think shoplifting represents the lion's share of retail theft, but the Center for Retail Research reports that in 2011, just over 44 percent of all retail shrinkage in North America was due to employee theft, while shoplifting represented only about 36 percent. Of the remaining 20 percent, most was the result of internal errors, including mispricing, invoicing errors, and other administrative failures; about 4 percent was attributable to theft by vendors. While eliminating shrinkage entirely may be impossible, you can take easy steps to reduce shrinkage significantly in your store.
Preventing Employee Shrinkage
Keep the back door to your store locked and alarmed. An unlocked back door is an easy way for employees to remove merchandise from the store for later pick-up.
Review the cash register transactions everyday. Large amounts of "no sales" or small returns or refunds are all things that could indicate theft. Make sure you do the cash register review where employees can watch -- PointofSaleSoftware.com suggests that alone can cut down on theft.
Inventory high theft items on a regular basis. Make sure you keep inventories for all items up to date, however, so you can spot potential shrinkage quickly.
Check employees' purses or bags before they leave for lunch or go home for the day. Have another employee check the manager's purse or bag as well. This will eliminate the easiest way employees have to remove unpaid merchandise from the store.
Enact a policy for ringing up friends and family. Retail consultant Jerry Robertson says one of the most common forms of retail shrinkage is passing on an employee discount to someone who is not authorized to receive it.
Explain your policy on theft very clearly to new employees. Letting them know you are serious about prosecuting for crimes could deter some workers from stealing.
Create an anonymous system for reporting employee theft. You could have an email address, a phone number or a a cardboard box where notes can be left. Most likely, you will receive some false claims, but you could also get legitimate information that will save you money.
Preventing Vendor Shrinkage
Hand count all inventory when it is delivered, to make sure the items you received match the number on the invoice. Vendors can steal from a shipment, but if you do not know an item is missing, you cannot catch the shrinkage.
Break down all boxes in the shipment before the vendor leaves. Do not allow vendors to take back the boxes, unless they have been pulled apart. Large boxes offer lots of space for taking items out of the store.
Refuse to sign any delivery receipts until you have verified every item on the sheet, no matter how long it takes. Inform vendors in advance that this is your policy; it may reduce the incentive to take merchandise.
Preventing Customer Shrinkage
Greet customers when they enter the store. Not only is it good customer service to say hello, but it also lets the customers know the staff is alert to activity in the store, which should cut down on theft.
Place high theft items in locations where they can be easily watched. Small items that can be placed in purses and pockets should also be kept in visible areas.
Keep the store clean and organized. Retail consultant Jerry Robertson says shoplifters gravitate towards unorganized, messy areas to throw extra packaging from items that are being stolen or to take things unnoticed.
Keep an eye on shoppers who enter the store in pairs and then split up. Shoplifters sometimes work in teams; one tactic they use is for one person to distract store personnel while the other one steals merchandise. Do not let your attention be diverted.
Install mirrors in blind spots in your store so the whole area can be seen at all times. Shoplifters like to go to areas where they cannot be seen, so by eliminating those from the store, you are taking away one of their key advantages.
Place signs throughout your store that mention that anyone caught shoplifting in your store will be prosecuted. If people know you are tough on theft, it will most likely cut down on the urge to steal.