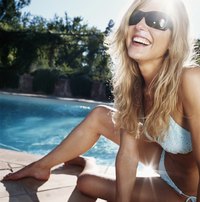 The color of your swimsuit needs to complement your skin tone. It's not enough to just choose the right cut and the right style for your body shape; the color of your bathing suit has to work with your natural skin tone to bring out its warm or cool hues.
Lighter Skin Tone
Light skin goes well with greens and blues. Any shade of green -- minus florescent or lime green -- will work with your creamy color, as will eggplant purple. The rule of thumb for lighter skin tones is steer clear of orange, yellow and gray; they will give your skin a washed-out look. If you're into lighter shades, go with pastels. Got red hair and freckles? Go pink. It truly is a ginger's best bet.
Olive Skin Tone
Olive skin pairs well with pastel, powdery colors such as soft blues and greens, or creamy yellows and dusty pinks. Steer clear of gray and brown; it will clash with your skin tone. Black also works well with olive skin and white works well, too. But just remember, when it gets wet, white can become transparent -- unless your white suit has a good lining, it may work best while sunbathing at home or on a private beach.
Medium Skin Tone
Medium skin tone is broken up into two shades: medium-light and medium-dark. If you have medium-light skin, cranberry red and earthy shades such as beige and brown will complement your skin tone. Be cautious of black and and dark gray; these dark colors may drown out your natural skin. But if you're medium-dark skinned, avoid earthy colors, such as beige, and opt for vibrant colors -- think bright pinks and purples -- or sunny yellows and oranges.
Dark to Black Skin Tone
If your skin is dark to black in tone, deep primary colors will complement your coloring. Think rich reds and purples -- even tangerine will work. But don't be afraid to go soft: Minty greens, muted yellows and pastel blue will contrast nicely with your skin. From pale rose to vibrant fuchsia, pink goes well with dark skin.