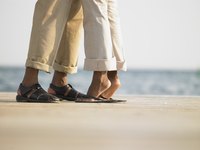 The iconic Rainbow Sandals brand is known for its hippie/surfer roots in Southern California. Founded by entrepreneur Jay Longley in 1974, the sandals are still handmade in San Clemente, a small beach town in Southern Orange County that is the capital of the surfing industry. Rainbow Sandals manufactures a wide range of higher-end flip-flop styles and markets its products to those who embrace a casual outdoor beach lifestyle. It is still a relatively small company that markets through individual sales reps. Don Lee, General Manager of Rainbow Sandals, says that "the company is more concerned that its retail outlets reflect the 'Rainbow lifestyle'" rather than shooting for massive distribution. Retailers must be attractive lifestyle stores, not discount houses or flea market vendors.
Market your merchandise in line with Rainbow's lifestyle policy. You must be a store that appeals to outdoor, active lifestyles. You don't have to be a surf shop or even located in a beach community, but you do have to be attractive and vibrant.
Contact Rainbow Sandals' corporate office in San Clemente, California. Potential retail distributors must go through an application process to be permitted to sell Rainbow products. A credit check will be part of the process.
Request a visit from a sales rep with whom you can establish a personal relationship and who can help you through the application process. The rep will be your wholesale liaison and mediate your business relationship with the company. Rainbow Sandals prides itself on customer service.
Fill out the application and give it to the rep. If there is no rep in your territory, the application will show an address to send it. Wait for instructions.
After you've been approved,enter your log-in information on Rainbow Sandals' wholesale website. However, restrict use of the website to practical purposes: Rainbow Sandals is de-emphasizing its wholesale website in favor of sales rep relationships. This is part of the company's mission to provide excellent customer service.