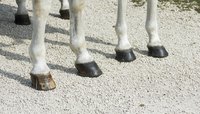 The fetlock is the large joint near the bottom of a horse's leg where the canon, sesamoid and coffin bones meet. When it is functioning properly, the fetlock acts as a spring and shock absorber for horses at work or play. The sight of an injured fetlock may strike fear into the hearts of horse owners, but many horses fully recover from even severe fetlock injuries under the guidance of an experienced veterinary professional.
Heat and Swelling
If a horse's fetlock is swollen and feels warm when touched, his handler can begin cold therapy sessions by using cold running water from a hose and running it over the joint for periods of 10 to 20 minutes three to four times per day. If a hose is not handy, the website Young Rider suggests applying frozen bags of peas or corn, or a freeze wrap to cool the joint and ease the swelling. Any time a joint injury is suspected, contact your veterinarian for further advice. Pain and swelling that occurs in all four fetlocks, particularly following exercise, may be a precursor to degenerative joint disease.
Treating a Puncture
Puncture wounds can be particularly challenging to treat, especially when joints are involved. They are usually caused by a stray wire or a kick from a pasture mate. Although the superficial wound may be a small one, it can cause a great deal of pain for the horse, who may be unable to bear weight on the affected joint. As soon as a puncture wound is discovered, call your veterinarian so the wound can be flushed with sterile saline. The vet may clip hair away from the wound to enable proper drainage, and may advise you to flush the wound regularly with an antiseptic solution. Cold therapy can ease a horse's pain, and antibiotics such as penicillin may be prescribed to prevent infection. The horse will also need a tetanus booster to prevent lockjaw.
Arthritis and Joint Disease
Horses with particularly heavy work loads, such as race horses, are prone to degenerative joint disease and the early development of arthritis. In less active horses, these conditions can begin with initial injuries such as a bone chip from a previous trauma, or from consistently poor conditioning practices. If initial X-rays show joint deterioration, the horse needs an extended rest period, according to Dr. John Kohnke on his website, Kohnke's Own. Severe joint deterioration that is not diagnosed in a timely fashion may require surgery. When a horse is able to return to his work gradually, responsible handlers will furnish a supportive wrap or sports medicine boot to support the healing fetlock.
Other Treatment Measures
Surgery is an option for athletic horses whose fetlocks are affected by multiple bone chips. Caused by repeated trauma, these bone splinters are simple to remove; the horse's recovery time is brief, allowing him to get back to work in a timely fashion. Less active horses can tolerate the bone chips with minimum discomfort, though they may benefit from corticosteroid injections that reduce inflammation and protect the soft tissues within. Though fetlock injuries are not completely avoidable, keeping a horse in fit condition on a moderate work schedule can go a long way to preventing them.