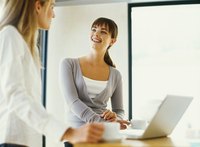 While the sounds of people working can be music to an employer's ears, various noises around the workplace can be distracting and harmful to people working nearby. Ringing phones, conversations and the general hustle that can occur in an office can interrupt employees' thought processes and make it difficult for some to perform their appointed tasks. In addition, the noise level of some manufacturing facilities can do permanent damage to workers' hearing. Soundproofing offices and work areas can be expensive, but employers can make modifications in the workplace that cut down on noise and enable employees to work with fewer interruptions and no damage to their hearing.
Conduct a noise assessment. Using a sound level meter, assess the noise levels in the workplace. The Occupational Safety and Health Administration recommends that employers conduct walk-around surveys and work shift sampling. If the eight-hour time-weighted average exceeds 90 decibels, the employer must take action to lower employees' exposure.
Eliminate or lessen equipment noise. If you are unable to purchase quieter equipment, consider putting mufflers on the equipment to lessen noise. Putting silencers on equipment exhausts also limits noise output. Performing routine maintenance on equipment to keep it in optimal working order will help prevent squeaks and rattles.
Move equipment away from workstations when possible. While some workstations must have equipment that can make the decibel level higher than OSHA recommended levels, you may be able to move other equipment away from the majority of your workers. Workers who must work near noise-producing machines should wear OSHA-approved hearing protection as part of their safety protection gear.
Build enclosures around noisy machinery. If you cannot move the equipment, build barriers around it to block the sound. Barriers are also applicable in office space around work areas. In an office, the cubicles should be high enough that workers sitting at their desks are below the top of the cubicle wall. Cubicle walls should be high enough and thick enough to block sound.
Replace the ceiling in your office with sound-absorbent tile and add carpet or rugs to the floor to absorb noise. Replacing hard surfaces with soft materials can help reduce noise levels.