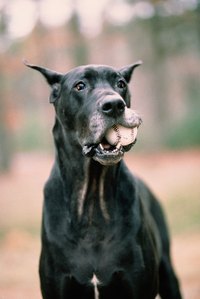 Dog lovers often calculate their pets "human" age by multiplying the actual age by seven. That method might be quick and easy, but it also fails to give you an accurate human equivalent for your dog's age. Furthermore, the method only works if you know the exact age of the dog, which may not be possible for adopted or rescued pets. Determining a dog's age can be done by looking at a few visible signs. His "human" age can be calculated using a more accurate formula, too.
Check the Teeth
Dogs' teeth can indicate their ages. Obviously, the presence of puppy teeth and excessive chewing suggests the dog is not yet an adult. Mild buildup of tartar around the dog's molars shows the dog is around 2 years of age. If the tartar has begun building up on the canine teeth, too, the dog is probably closer to 5 years of age or older. Dogs who show considerable wear on their incisors have moved into middle age or beyond. Of course, dental care and diet will play a role, too. Dogs who receive regular teeth cleanings and dental care will show these signs of aging at later stages or not at all.
Focus on the Eyes
Around age 7, dogs often develop lenticular sclerosis, a normal change in the eye's lens associated with aging. The condition causes the dog's eyes to appear cloudy or bluish. Pet owners often mistake this condition for cataracts. Dogs can develop cataracts but the eyes appear opaque and/or white. Both conditions indicate advanced age in dogs. According to VCA Animal Hospitals, half of dogs age 9 or older have one of these two conditions. Nearly all dogs older than 13 will suffer from cataracts or lenticular sclerosis. The latter will not impact a dog's vision until the dog reaches old age. Of course, old age depends on the breed and size of the dog. Giant breeds such as Great Danes and Saint Bernards are considered old at 5, but on average, dogs are considered seniors after age 7.
Examine the Coat and Skin
Just as people's skin and hair shows signs of aging, a dog's coat and skin can indicate an older pet. Graying around the muzzle starts around middle age for most dogs, but certain coat colors will grizzle earlier. Blue, red, yellow or gold colored coats may begin graying earlier. Dogs suffering from vitiligo, a skin condition affecting the dog's pigmentation, will grizzle earlier.
Watch Their Mobility
A dog's activity level also indicates age. Young dogs are more active and sleep less than older dogs. Around middle age, dogs will begin sleeping for longer periods and will show a decline in activity levels. What constitutes middle age for a dog varies depending on breed and size. Overall mobility may decrease because arthritis will begin to develop at this time, too. Active small dogs, particularly Yorkshire terriers, may start coughing more around age 6 or 7 due to a common genetic condition known as a collapsing trachea. All of these issues will occur at younger ages in overweight dogs.
Calculate the Accurate Human Age
Because a dog's expected life span is tied to its size, any attempt to calculate its "human" age needs to take that into consideration. For example, a Great Dane would be considered old by age 6. For that reason, calculating a dog's age in human years is complicated. The easiest way to find an accurate conversion of a dog's age to the equivalent human age is to use an online calculator. Pedigree.com's calculator calculator asks users to select their dog's current age from a drop down menu and the dog's size and/or breed. Based on that information alone, the "human" age is calculated. For example, an 8-year-old German Shepherd would be 61 while an 8-year-old Chihuahua would only be 48 in human years.