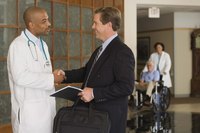 Marketing your product or service to doctors is tricky business when it comes to their busy schedules and the task of getting past the receptionist or nurse gatekeepers. Add to the challenge that the days of solely relying on free promotional items to get a doctor to give you a few minutes of time are greatly diminished, thanks to PhRMA's voluntary ban. The key to marketing to busy physicians is to develop several marketing strategies that get your message to them in multiple ways.
Make It Educational
PhRMA restrictions do not include free educational items with a value of $100 or less, says the American College of Emergency Physicians. That gives you freedom to create an educational attention-grabber that helps the physician understand what you're selling. Look at the needs of the doctor as you develop your piece. For instance, if you sell products to ophthalmologists, create a small model of an eyeball the doctor can use to explain medical conditions to their patients.
Create Relevant Messages
Your marketing message needs to be informational while succinctly describing the problem the physician faces. Explain the benefits of your product or service, detailing how it helps doctors provide better care for their patients. Start by pointing out the problem the doctor may be experiencing, such as motivating patients to lose weight. Then, focus on benefits that appeal to doctors, such as giving them a tool that effectively helps their patients gain better control of their health. Consistently these messages on all of your traditional and digital marketing efforts to start building brand name physicians will start to trust.
Offer Sessions with Meals
Schedule a lunchtime educational presentation about the product or services you sell. While expensive sit-down dinners and lunches are frowned upon by the PhRMA, providing pizza or sandwiches for the office stuff staff as an incentive to book the sales appointment is acceptable. Plus, offering to bring in lunch for the entire office helps you get past the gatekeeper and on the doctor's calendar. Keep the session short but informative and interactive, such as by using an educational aid to demonstrate how your product or service works.
Make Direct Mail Effective
Creating a direct mail package that begs to be opened is key to getting a physician or his staff to open and share it. For example, if you sell supplies for diabetics, providing a rolled-up chart that shows A1C values helps get the envelope opened due to its bulkiness. Include a message on the outside of the envelope to entice staff to open it. For instance, if you sell medical workshops to doctors, use a few words to say what they'll learn, then mention a discount good for a limited time, to motivate the recipient to open the envelope.