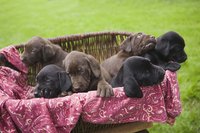 If you have a puppy whose mother, or dam, was registered from the American Canine Association and whose sire, or father, was registered with the American Kennel Club you can register the puppy with the ACA, but not with the AKC.
Purchase a three generation pedigree from AKC's website (see Resources) for the sire. Sign up for an account and purchase the document online. After you pay for the document, download it to your computer or print it.
Check the ACA's site to see if your breed of dog can be registered. For instance, if you have a Pekinese, click on "P" and see if the ACA lists the Pekinese. If your breed is listed, you can begin the registration process.
Navigate to the ACA dogs website to begin the dual canine registration process.
Complete the application, which requires information about the puppy in the first section. Attach the generation pedigree certificate, the sires AKC registration and the dams ACA registration where it says, "Attach Dog's Documents" in the first section about the dog.
Enter your personal information in the second section. Select if you want "Express Service" and if you are requesting pedigree certificates. Enter your credit card information. Read the "Terms and Conditions." It is extremely important that you read this section before clicking "I Agree." Click "Submit" and follow the prompts to finish checking out.