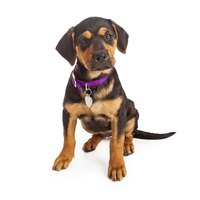 Oils, dirt and body odors collect in a dog's collar, leaving a stinky smell and discoloration that you don't want to put back on a freshly bathed dog. Household white vinegar loosens stains and breaks up grime that make your dog's collar smelly without harsh chemicals to irritate your dog's skin.
Cleaning Nylon Collars
To freshen your dog's collar and remove light stains, combine equal parts water and vinegar in a spray bottle. Spritz the collar and rub lightly with a soft-bristled toothbrush. If there are stubborn stains or body oils, lightly sprinkle baking soda or salt on the collar and massage in a circular motion with the toothbrush. Rinse thoroughly with clear water. Do not soak your dog's collar in straight vinegar as the acid will degrade the strength of the nylon threads, and could cause the collar to break should he lunge against it.
Keeping Leather Collars Clean
Vinegar work to clean your dog's leather collar as well. Vinegar is especially good for salt stains. Dib a soft cloth into a solution of one part white vinegar to one part water. Use dabbing motions to clean the leather. If the leather is beginning to dry out, combine one part white vinegar and one part linseed oil. Work the mixture into the leather and buff out with a soft cloth.