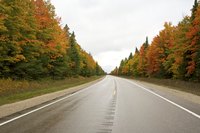 Traveling to Michigan from Wisconsin by land, sea or air can be an adventure. Separated by Lake Michigan, travelers have the option of journeying 100 miles across the inland sea. Road travelers can take in the sights as they pass through Illinois and Indiana to reach Michigan's Lower Peninsula or enter the Upper Peninsula via highways at Wisconsin's northern state line where the rugged beauty of both states make for a memorable trip.
Ferry Aross the Big Lake
Two passenger/auto ferry services traverse Lake Michigan to link Wisconsin and the Wolverine State via the inland sea. Lake Express operates ferry terminals in Milwaukee, Wisconsin, and Muskegon, Michigan. Cross in just 2 1/2 hours on board the 248-passenger catamaran. Lake Express offers daily round-trip service May 1 to Nov. 1.
The 600-passenger S.S. Badger links Manitowoc, Wisconsin, and the resort town of Ludington, Michigan. Operating since 1953, the car ferry is listed on the National Register of Historic Places. It provides daily round-trip service mid May through mid October. Crossings require four hours, but amenities help pass the time. Enjoy the scenery from the outside deck, relax in a private stateroom, visit the arcade, museum, television or movie lounge or get a snack at the deli. A children's playroom lets the little ones get their wiggles out. Visitor information is available at terminal locations in both cities.
Travel by Air
Major airports offer the greatest airline and schedule choices for flying between Wisconsin and Michigan. Airlines providing flights between the states include American, Delta and United. Primary Wisconsin airports are Straubel Airport at Green Bay, Mitchell Airport at Milwaukee and Dane County Airport at Madison. In Michigan's Lower Peninsula, Gerald Ford Airport at Grand Rapids and Detroit Metro Airport near Detroit are primary airports which accommodate multiple airlines. American Airlines offers daily round trip flights between Milwaukee's Mitchell Airport and Sawyer Airport near Marquette in Michigan's Upper Peninsula.
Travel Land Routes
The quickest route to Michigan from Wisconsin by land depends on your departure location and destination. Interstate 94 is the primary route from southern Wisconsin to Michigan's Lower Peninsula. The route proceeds from Wisconsin through Illinois to Interstate 90 in Indiana, then merges onto Interstate 94 to cross into Michigan. Three major routes cross into Michigan's Upper Peninsula from northern Wisconsin. United States Highway 2 enters Michigan at Ironwood. United States Highway 45 crosses along the north central border south of Watersmeet and United States Highway 141 enters Michigan along a point at the south-central state line. Amtrak's Hiawatha Route provides train service from Milwaukee to Chicago.. At Chicago, passengers may connect to the Michigan Service route to reach the Lower Peninsula cities of Grand Rapids, East Lansing, Port Huron, Detroit and Pontiac. Greyhound operates bus routes from as far north as Green Bay, Wisconsin. Southerly routes cross into Illinois and Indiana to reach destinations in the Lower Peninsula.
Private Transportation Options
Boaters can cross Lake Michigan from Wisconsin's 15 tourist-friendly harbor towns stretched along the coastline to enter any one of Michigan's 36 harbors situated from New Buffalo to the Straits of Mackinac. Wisconsin's four harbors located along Lake Superior support water travel to 15 harbors along Michigan's northernmost shores in the Upper Peninsula. To access Michigan destinations by plane, a host of air charter services operate across Wisconsin with possible link's to Michigan's 235 public use airports.