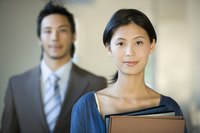 Joint ventures take plenty of paperwork, but you usually won't need to officially register them with anyone. A joint venture is a cooperative effort between two businesses. For example, Business A agrees that Business B will be its sole distributor for the next fiscal year. Alternatively, A and B could instead pool their resources to create a third company to handle distribution, but joint ventures usually focus on a single specific project, so they're more limited in scope than formal partnerships.
Written Agreement
For a successful joint venture, you want a partner who agrees on the venture's goal and the strategies for reaching that goal. You'll need a written agreement on how the venture will work. The agreement should include how you and your partner control the project, how you'll resolve disputes and how long the joint venture will last. Your agreement should also spell out what each company will contribute to the venture and how profits and losses will be divided.
New Companies
If you create a new company to run the joint venture, it can be structured as a partnership, a corporation or a limited liability company. You will have to register a new corporation or an LLC with your state government. For example, you must choose a business name for an LLC and file articles of organization. The exact process varies by state.
Getting a License
If your state or local jurisdiction requires joint ventures to be licensed, you'll have to apply for any necessary licenses you don't already have. If you're creating a third company, it may need its own licenses as a new entity. Some states mandate licenses for joint ventures in particular industries. California, for example, requires building contractors working in a joint venture to apply for licenses covering the specific project.