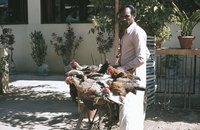 Travelers to India will find a country rich in diversity, history and culture. The beauty of the country is accompanied by staggering poverty and health standards are not the same in India as they are in the United States. Prior to visiting India, travelers should take precautions to avoid common illnesses.
Illness Caused by Food and Water
The World Health Organization estimates that only eight of the more than 3,000 cities in India have safe drinking water and adequate water waste treatment. The contaminated water throughout India causes diseases such as hepatitis A and typhoid. The Centers for Disease Control recommends that all travelers to India get vaccines for both illnesses. Traveler's diarrhea is common throughout India; 30 to 70 percent of travelers will suffer from the illness within two weeks of arriving. The CDC warns travelers to India to never drink tap water and to avoid ice. Bottled water is safe, but check the seal to make sure it's intact; it's a common practice amongst vendors in India to refill water bottles with tap water and sell it to tourists. Purify water by boiling it or use a water filter with iodine chemical barrier.
Diseases Spread by Mosquitoes
Malaria and dengue fever are common in India. Approximately 6 million cases of dengue fever are reported in India annually, more than any other country. Both are spread through mosquitoes, which are prevalent in all areas of the country except for those at an elevation above 6,500 feet, such as Himachal Pradesh and Kashmir. Common destinations such as Delhi and Mumbai are not immune to malaria-infected mosquitoes. To avoid these diseases, sleep under mosquito nets and use insect repellant with DEET. Spray hotel rooms with insect repellant several times per day. Prophylactic antibiotics before and after travel minimize the risk of malaria. No vaccine exists for dengue fever, which is most common in September and October.
Illness Carried by Animals
The World Health Organization reports that 36 percent of the world's fatalities from rabies occur in India. Travelers should receive the rabies vaccination before visiting India; the disease is fatal if not treated. Rabies is most often transmitted through dog bites. In India, the dog population is estimated at 25 million. Of the estimated 20,000 annual deaths from rabies, three-quarters are in rural villages, but cases regularly occur in larger cities such as Bangalore or Delhi. While traveling in India, do not touch unfamiliar animals. You can be infected if a dog bites or scratches you, or if it licks open wounds or gets saliva in your eyes or mouth.
Dehydration and Heat Stroke
India is hot and humid all year, especially in southern regions which can reach over 100 degrees Fahrenheit. Travelers should pay close attention to their physical condition while walking during daytime hours. Symptoms of dehydration include swelling of feet and ankles, headache and muscle cramps. Heat stroke is more serious and may cause dizziness, confusion, nausea, loss of coordination and seizures. In many rural locations in India, medical facilities are limited, so it's particularly important to prevent heat stroke. Drink plenty of bottled water throughout the day and cool off by placing cold compresses on your skin.