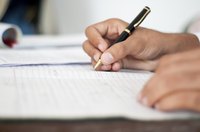 A visionary ahead of his time, Henry J. Kaiser created a managed health care organization for his industrial employees who worked in his steel mills, on construction projects and in shipyards starting in the late 1930s. Public enrollment in Kaiser Permanente began in October 1945. The organization currently boasts millions of members nationwide. While you can access your health plan information online, it is best to cancel your insurance by filling out the cancellation form or by calling Kaiser directly.
Things You'll Need
Ask for the Kaiser cancellation form from your health benefits representative if you joined the Kaiser program through your work. You can generally cancel Kaiser membership when you terminate your position with your employer or during the open enrollment period, which varies based on the company for which you work. If special circumstances apply, such as a divorce or a death, you may be able to cancel your insurance before open enrollment.
Fill out the form, sign and date it and return it to your immediate supervisor or the HR department. Don't forget to include your medical identification number issued by Kaiser. You can find this on your Kaiser membership card.
Call Kaiser's member services phone number if you joined under a private or individual plan. You can find the member services phone number for your region by visiting Kaiser's website and selecting "Locate Our Services" from the menu bar at the top of the page. On the left-hand side of the screen, click on "Member Services Hours and Phone Numbers." Scroll down the page to locate the number for your region.
Press the number "4" to reach member services after dialing the number. Enter your 10-digit medical record number when prompted.
Inform the Kaiser member services representative that you would like to cancel your Kaiser policy.
Tell the Kaiser representative the exact date that you would like your health membership to end. Make the call at least one month before the date that you want, since it takes some time for Kaiser Permanente to process the cancellation of your health coverage.