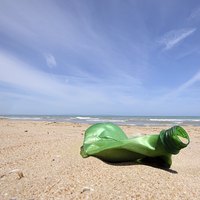 Beach litter presents problems around the world. Improper disposal of long-lasting trash like plastics and cigarette butts harms wildlife, which can become ensnared or fooled into thinking that plastic items are food. Some litter originates from people at the beach, and some of it washes in. You can help keep beaches clean by not littering, participating in beach cleanups and catching floating litter closer to its inland sources.
Harmful Effects of Beach and Marine Litter
Abandoned fishing line and nets are famous for harming wildlife, causing injury and death from cuts or drowning. Marine researchers find dead seabird chicks whose gullets are stuffed full of plastic bottle caps. Even real food left on the beach doesn't simply disappear; it supports an overpopulation of wildlife that expects food from humans. Windblown trash tangles in beach grasses and settles far into marshes. It is difficult to recover trash from these marshes without causing damage.

Use Litter Disposal Facilities, Or Carry Your Own
Some beach litter -- such as food and beverage containers, along with discarded toys -- originates at the beach itself. Public beaches may or may not have litter disposal facilities, so it may be up to you to carry out what you bring in, just as with any natural setting. It's easy to bring an extra bag or two so you leave nothing behind. Also consider carrying away other trash you find at the beach.
Keep the Water Clean
When "Beach Closed" signs warn of pollution from discharged sewage or an algae bloom, plans for fun in the sun and sand have to wait. Solutions to these problems include managing urban storm water so sewer systems don't overflow, and preventing excess fertilizers and nutrients from washing into streams. Rain gardens help to catch high storm water flows, while absorbing nutrients. Rain barrels harvest clean water for your own use instead of releasing it into sewers. Other solutions include properly disposing of cleaners, solvents, motor oil, pesticides and any chemicals. Contact your city's waste disposal and recycling services department if you have questions about how to get rid of an item that may prove harmful to the waterways.
Take Action Locally
If you live near a beach, you could participate in cleanups at the beach. But if you live inland, don't think that there's nothing you can do. Marine litter can form rafts that wash ashore and make a beach look like a dump. Most floating trash originates far inland. Suppose a plastic bottle cap washes down a parking lot storm sewer and into a river. It will remain intact as it floats downstream, and it will eventually reach the sea. Keep an eye on litter, especially plastic, and note how mobile and long-lasting it is. Participate in local cleanups of streams and parks. You can never catch all of the trash that's headed downstream, but you can reduce the scale of the problem, not only on the beaches but in your area too.