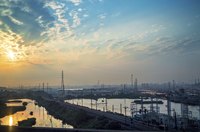 The New Jersey Turnpike makes a convenient commute possible for more than 200 million vehicles per year. If you plan to utilize this toll road's 113-mile stretch, calculating the toll for your route helps in planning the commute.
Toll Factors
The cost of your toll on the turnpike takes into account several factors. Your vehicle class affects the cost of your toll; trucks, buses and passenger vehicles are subject to varying toll rates. The distance you travel dictates the total cost of your toll. Several discounts are available, all of which are outlined on the New Jersey Turnpike Authority's "Toll Rates" page under the section "Available Discount Programs."
Toll Calculator
While the total cost of the toll is not easy to calculate, the New Jersey Turnpike Authority has provided a convenient online toll calculator located on its "Toll Rates" page under the section "Toll Rate Calculators." This nifty tool allows you to calculate your toll with inputted vehicle class and discount parameters. In addition, toll schedules can be printed from this page for each vehicle class, providing convenient tables that allow you to quickly find a toll for a given commute.