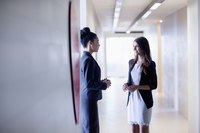 There's no law against bad language in and of itself -- as long as it's not directed against a class protected under federal law. That makes addressing it at the office more difficult that it might seem. Still, a business owner or manager can deal with the issue multiple ways.
Plan a team meeting to discuss what language is inappropriate for the office, the consequences for using that language, and how employees can report offenders. Set the agenda in the planning phase and give the employees enough advance time to make sure they can attend.
Meet with your team and discuss your expectations regarding language. Allow everyone to present their own views. Stick to the agenda and avoid calling out individuals in the meeting.
Discuss the issue one-on-one with the offender after the meeting. Be very clear about the exact language that's causing the problem, and your expectations for how the employee will correct his behavior.
Educate your employees on acceptable language with additional training, if necessary. Sensitivity training courses can provide examples of how bad language can have a negative impact both within a team and with customers.
Develop a written policy for acceptable language in the office and the consequences for violating it. Have everyone sign the document, acknowledging that they've read it and understand it. Check with a lawyer to see if your state allows for termination if employees violate the policy.