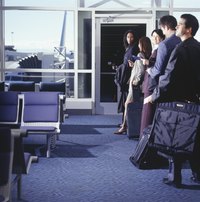 Like most U.S. air carriers, Delta boards its passengers according to zone. Your boarding pass will indicate which zone you belong to, and you'll have to wait until that zone is called to get on the plane. Pre-boarding is available for members of Delta's loyalty program who are traveling in first class or business class and for people who might need extra time and help, such as individuals with disabilities or families traveling with small children.
First and Business Class
At the gate, there will be two lines for Delta passengers: Priority Boarding and General Boarding. Medallion members -- Delta's top rank in its loyalty program -- with first class, business elite or business class tickets are invited to board before other passengers are allowed on the plane. If you have an upgraded ticket, make sure your boarding pass reflects the PREM zone for pre-boarding privileges.
Infants and Small Children
Once upon a time, all airlines allowed passengers traveling with small children and babies to pre-board. With passengers willing to pay to get on early, that's not the case anymore. However, Delta still makes this allowance. Discuss your need for pre-boarding with the gate agents when you arrive for your flight and they'll likely allow you to board ahead of the general boarding groups.