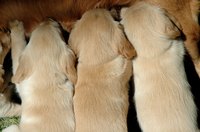 You've been taking special care of your mother dog's body for the past few months. First, as she went through a two-month gestation period, followed by weeks of nursing her puppies. During that period, she might have eaten four times as much food per day as she did before pregnancy. As the weaning process begins, you must monitor her overall health and cut back on her food intake.
The Weaning Process
Until the puppies are about 3 weeks old, they rely on their mother's milk entirely for nourishment. Between the ages of 3 and 4 weeks, you can start introducing solid food. By the time the puppies reach the age of 8 weeks, they should be completely weaned. When puppies are eating, you'll have to separate them from their mom for an hour or so, so she won't consume their food. The less she nurses, the less food your dog needs to eat.
Feeding During Weaning
Right before weaning, start giving your dog less of the high-calorie food she's become accustomed to during lactation. This helps cut down on milk production, and also lowers the risk of mastitis, a painful breast inflammation. The American Kennel Club recommends separating the mother from the puppies the day prior to complete weaning, allowing the babies to eat as much solid food as they want. However, on that day the mother dog isn't fed. Put mother and puppies together for the night, with no food. After that point, the pups will be weaned from their mother.
Drying Up Milk
Cutting back her food is easy. Drying up her milk can prove much harder, especially if your dog had a large litter and produced huge quantities of milk for her brood. Ask your vet if it's appropriate for you to use standard measures for drying up your dog, such as withholding food for a day and limiting her access to water. If her teats remain engorged, place a hot towel over them and give the area a gentle massage. If natural remedies won't do the trick, your veterinarian can prescribe cabergolin, a medication to stop milk production.
Back to Normal
By the time the puppies are weaned, the mother dog no longer needs the extra calories necessary for a healthy pregnancy and lactation. She can go back to her standard prepregnancy food in the appropriate amounts. Once she's no longer producing milk, start increasing the amount of food daily until she's back on her maintenance diet.