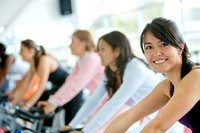 Creating leads is essential to grow membership of a fitness business and replace members who drop out, but it is just the start of the process. Fitness businesses must nurture those leads and build relationships to encourage prospects to sign up for membership. You'll need to target hot prospects who are keen to find the facilities and support to improve their fitness and encourage other people to do the same.
Understand Market Trends
Lead creation programs must reflect the latest market requirements. The American College of Sports Medicine does an annual review called "Worldwide Survey of Fitness Trends." The 2013 edition determined fitness businesses offer facilities for emerging trends, such as high-intensity interval training, and push the professional credentials of its fitness instructors. Businesses should also check market studies such as "Gym, Health & Fitness Clubs in the US -- Market Research Report." One was published in June 2014 by IBISWorld.
Provide Online Information
The company website should provide information on facilities, services and credentials. It should also give them accessible information on the available equipment, any courses and membership rates. Offer an incentive, such as a discount for online registration or a free introductory session, to encourage prospects to provide their contact details.
Contact Clubs and Businesses
Sports clubs, such as football, soccer and running clubs, may require additional facilities to supplement training programs. Contact club officials with details of fitness services and offer special rates to club members. Offer special rates for block bookings to support group training sessions for club members. Businesses can also provide multiple leads. Offer corporate rates to health-conscious organizations that want to offer fitness club membership to employees.
Encourage Referrals
Existing members can provide valuable leads for a fitness business, so it pays to give them incentives. A member who brings in someone new could get an extension to their membership or an additional session at no extra charge. To capture data on the people they introduce, offer them a free session in return for registering their details.
Educate Special Groups
Certain groups, such as seniors and people with disabilities or health or weight issues, may not consider themselves as potential members of a fitness business. Talk with special interest groups to explain the benefits of improving fitness at your facility. Offer open days for prospects to find out more and try the facilities.
Put E-Mail to Use
Lead generation is a continuous process, according to marketing consultants Eloqua. The firm recommends you use regular e-mail to maintain and nurture prospects. Send articles on fitness or details of upcoming courses. Offer promotional discounts on membership when people are actively thinking about fitness, such as January when people make New Year's resolutions to get in shape or just before summer hits.