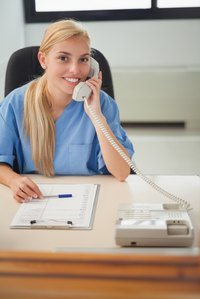 Missed appointments cost businesses money, particularly for companies that block off time for each client and have no easy way of recouping the lost revenue. Reminder calls can help reduce these no-shows by reminding customers of their arrangement and getting them to recommit to being there. Getting that extra buy-in can help keep the calendar filled.
Timing It Right
Make reminder calls at least a day before the scheduled appointment at the customer's daytime telephone number. Keep the script short and sweet -- reminding the person about the day and time of the appointment and confirming that they'll be there. If the answering machine or voice mail picks up, use discretion when leaving a message. Detailed medical information, for example, shouldn't be left on a machine. Again, just stick to the basics -- the appointment schedule and a number to call to confirm.
Active Commitment
Appointment reminder calls work best when they secure an active commitment from the customer. While on the phone, get the respondent to repeat the time and date of the appointment, as well as any other key details. Ask her if she will agree to call you if she needs to cancel. This commitment makes it more likely that she will keep her word.