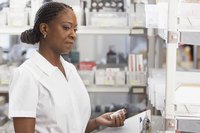 Tricare offers you several options when refilling a prescription under Tricare For Life. It's an easy process that you can do at home or at a military pharmacy. The process works for those who are computer savvy and those who use traditional methods.
Refilling Maintenance Prescriptions
Tricare's pilot program mandates that under most circumstances, maintenance prescriptions must be filled either through a home delivery pharmacy or at a military pharmacy. You must create an account for home delivery through Express Scripts. Visit the Express Scripts website at www.express-scripts.com/TRICARE/ to order online. Call 1-877-363-1303 for phone orders. If you want to use the mail, send your refill form -- given to you when you picked up your initial prescription -- to Express Scripts, Inc., PO Box 52150, Phoenix, AZ 85072-9954. Express Scripts usually delivers medicine in three to five days, but it's seven to 10 days if you use the mail option.
Filling Acute Prescriptions
If you need something immediately, go to a military pharmacy. Express Scripts can expedite orders for an extra fee, but it still can take 24 to 48 hours to reach you. For new prescriptions not needing urgent fill, your provider can send the prescription to Express Scripts through e-prescribing, fax, phone or mail.
Fees
You don't have to participate in the pilot program if you take medications not in its formulary. In that case, you can pick up your prescription from a civilian pharmacy. As of 2014, network pharmacy fees range from $5 to $44. Non-network fees vary depending on your deductible, cost shares and copays; you also pay the entire cost upfront. Check your medicine on the formulary list provided by the Defense Health Agency.