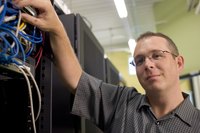 Budgeting and cash flow management are often one of the most challenging aspects of running a small business. It can be difficult to know where to focus your financial resources, especially if you're on a tight budget. For example, information technology can, and often does, consume a large portion of the annual budget. However, steps such as outsourcing, using open-source software, optimizing what you already have and going green have the potential to save money not only in your IT department, but also in other areas of your business.
Outsource IT Services
For some businesses, outsourcing instead of maintaining an in-house IT department makes good financial sense. According to the Massachusetts Institute of Technology Sloan Business School, outsourcing IT services can also help to reduce sales, general and administrative costs, which can run up to five times annual IT costs. In addition, outsourcing IT services such as technical support can give a small business access to more-qualified IT specialists and resources than an in-house budget would allow.
Open Source Software vs. Proprietary Software
The chances are good that there is a free option for most any software program your business requires. Open-source alternatives to proprietary software programs can save on expensive purchase costs or licensing fees and the time-costs for monitoring and managing them. For example, the OpenOffice productivity suite comes with word processing, spreadsheet, presentation, database and diagramming programs. Evernote has a free version of its note-taking and archiving software and Paint.net offers free image editing.
Optimize What You Already Have
Conduct a needs analysis before you invest in new equipment or software. For example, look to see whether upgrading a hard drive or adding more memory will solve performance issues before purchasing new equipment. Provide training so that users both understand and know how to use the features in software programs. For instance, training on how to build a simple database that tracks customers, inventory and orders can eliminate the need to purchase expensive customer and inventory management programs.
Reduce Energy Consumption
A green computing strategy is good for your budget and the environment. Green computing provides indirect energy cost savings through increased energy efficiency and decreased utility expenses, which can be much more difficult to plan for in an annual budget. For example, you can start replacing stationary desktop computers with more energy-efficient -- and portable -- laptops. Implement a power-down requirement and set computers and peripherals -- especially laser printers -- to power-down automatically during periods of inactivity.