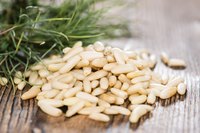 Since it was first widely reported in 2008, there have been thousands of cases of pine nut mouth documented worldwide. Pine nut mouth -- also known as pine mouth or pine mouth syndrome -- describes a persistent metallic taste that develops shortly after eating pine nuts. It can last for up to two weeks, and there are no known remedies.
Pine Mouth Symptoms
The U.S. Food and Drug Administration defines pine mouth as an adverse food reaction, rather than a food intolerance or an allergic reaction. This bitter, metallic taste usually begins 12 to 48 hours after eating pine nuts, or products containing them, and is noticeably intensified by the consumption of any other food or beverage, including water. Because the condition makes eating less enjoyable, it can have a significant impact on appetite.
A Temporary Condition
The only way to get rid of pine nut mouth is to stop eating pine nuts and then wait for symptoms to subside, according to a 2012 review published in Seminars in Neurology. Pine nut mouth is a self-resolving condition, in that symptoms decrease over time until they disappear completely, which usually happens within two weeks. Although there are no proven therapies for pine nut mouth, symptoms aren't recurrent, and there are no long-term health effects.
Other Considerations
The mechanism or susceptibility factors behind pine mouth syndrome aren't yet understood, but the FDA notes that most cases are associated with the consumption of raw pine nuts or products that contain them, including pesto. The problem has also been strongly linked to the consumption of nuts from Pinus armandii, or Chinese white pine trees.