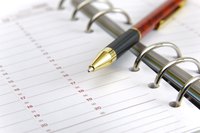 Providers of various services, including health care professionals, tax preparers, automobile service centers, among others, often make appointments with their clients many months in advance. Many find it prudent to sent their clients a written reminder of the appointment to reduce no-shows and last-minute cancellations. Phone and email reminders can also be useful, but can also be overlooked or missed. A hard-copy message is an inexpensive way of reinforcing those electronic reminders.
Use a word processing application tto create your reminder letter on your letterhead.
Explain the purpose of your letter and state the appointment's date, time and location, including both the street address and suite, offfice or floor number. Make a note of your office's policy on cancellations and encourage clients to call to reschedule if they cannot make the appointment, and provide the appropriate phone number in the body of your letter.
Note the reason for the appointment as specifically as possible without violating privacy considerations; for example, "Please bring your tax and other financial documents with you, as we will be reviewing your end-of-year tax strategies."
Link the letter to your appointment database and client address list. You should date, print, and mail the letters between two weeks and a month prior to the appointment date. It's preferable to sign these letters personally. Make a note in the client's file of the reminder letter, or insert a copy.