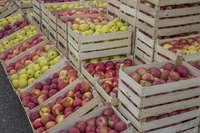 An arbitrage, or "arb" trade, is done when a trader identifies an inefficient price then buys and sells an asset to take advantage of that opportunity. It can be done in any market and is available to every type of trader. When done properly, it is an inherently hedged, low-risk strategy, and with enough frequency, or with a large enough scale, it can be extremely profitable.
Identify a price inefficiency in a market you're familiar with and have access to trade. Arbitrage can be done across many parameters, so you will have to be creative and proactive to find opportunities before other investors spot them and the opportunity disappears. Look for inefficiencies in price, location, time, market demand or even market perception.
Buy the underpriced side of your arbitrage trade. Because a true arbitrage will involve the simultaneous purchase and sale of a market's assets, selling the overpriced side of your arbitrage could just as easily be the second step. In real-time application, you won't be able to do both steps at the same time, so you must choose which side to do first. Do this by deciding which will have the least detrimental movement while you place the offsetting trade.
Sell the overpriced side of your arbitrage trade. By holding both a long position and a short position in the same market, your arbitrage will be an inherently hedged position, and your profit target won't be based on the total market direction (you won't be bullish or bearish on the overall market). Instead, it will be based on the difference between the two prices, minus transaction costs.
Close out the position. Once the underpriced and overpriced assets you bought and sold, respectively, have moved closer together in price, you must simultaneously sell out of your long position and buy out of your short position to book the profits on your arbitrage trade. Because you aren't trading based on the overall market movement, but rather the minuscule price inefficiencies between assets within a market, you shouldn't expect large profits from individual arb trades. You'll also have to do each arbitrage trade either very frequently or with a large enough scale to make it worth your time. That's why you often see arbitrage trading done by statistical computer algorithms, which can identify small inefficiencies quickly and can place the trades faster than humans.