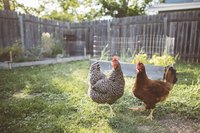 Chickens make unique pets. They can be tamed and, with consistent human interaction, can even become affectionate. One of the difficulties in keeping pet chickens comes in winter, when freezing temperatures threaten more than just their comfort but can also cause frostbite on the feet and combs. Ensure happy hens -- and roosters -- by providing them with adequate housing, food, water and bedding to help keep them warm.
Cozy Coops
Provide your chickens with shelter that keeps them out of the weather. Thoroughly clean the coop before cold weather comes, and inspect it. Your chickens' coop needs to be ventilated but shouldn't be drafty. Check corners, windows and near doors for drafts and fill any cracks you find. You can insulate the coop, too, using traditional insulation or even pieces of cardboard. You don't have to build them yourself, but you should make sure that nesting boxes and roosts are made of wood, which doesn't get as cold as metal, and it doesn't tend to stay cold, like metal does.
Comfort Food
When and what you feed your chickens can contribute to keeping them warm in the winter. Robyn Scherer of the Colorado State University Veterinary Extension program says you should feed your chickens in the late afternoon but before it gets dark. They'll eat more, filling their crops so they'll have sufficient food to digest throughout the night. You can stick with your chickens' usual feed, or you could take a tip from Ed Essex. According to his 2013 article for Mother Earth News, he and his wife feed their chickens cooked grains such as rice and oatmeal to provide them warm meals during the winter months. Whatever you feed your chickens as a main food source, you should continue to provide them with scratch grains, as well. Corn is especially useful, as it is a source of fat; plus, when digested, it produces more energy than other grains.
A Warm Drink
Nothing helps warm you up when coming in from the cold like a soothing, warm beverage. Your chickens will appreciate a warm drink as much as you do, so invest in a heated water dish to help keep them warm. Because a consistent water supply is vital for chickens' health, a heated waterer serves two purposes: it provides warm water to help maintain warm body temperatures without using stored energy, and it keeps the water supply from freezing, so they'll have constant access to water.
Useful Straw
Using straw as bedding material and for ground cover outside will help keep your chickens warm. You'll need to change it regularly, though, so it continues to do the job all season long. Straw is as useful as a wet blanket if bedding becomes damp or ground cover develops wet patches.
Artificial Heat Source
Chickens can acclimate to cold temperatures, but when temperatures fall to freezing and below, your chickens could suffer from frostbite. Avoid this by installing an infrared heat source in the coop. Leaving the heater on all the time will interfere with your chickens' ability to tolerate cold temperatures, so put it on a timer and set it to come on only during the coldest overnight hours. Also, cover electrical cords to keep them out of curious chickens' reach, so they won't peck at the cords and possibly get shocked or start a fire.