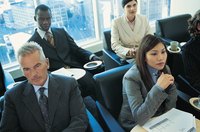 Conferences often have a number of different learning objectives, such as imparting knowledge, changing attitudes or developing skills. Writing good learning objectives enables you to measure the effectiveness of your conference. To write an effective objective, use action words that describe the outcomes for conference participants and set goals you can measure.
Identify Participant Needs
To attract external attendees to a conference or to encourage employee participation in internal events, write objectives that recognize the needs of the target audience. A medical conference on drug research, for example, helps its audience keep up to date with developments and enables them to provide better services to patients. A conference launching a new product to a sales team helps representatives increase sales to existing customers or reach new prospects. Technology conferences incorporating training workshops show technicians how to improve their skills or acquire essential qualifications.
Set Overall Conference Objectives
Write a set of objectives for the conference as a whole, such as "to ensure the sales force understands the benefits of the new product." The overall objective provides a framework for session contributors to write specific learning objectives for their own presentations. At the sales conference, a learning objective for the marketing manager's presentation might be "to ensure participants understand the timing and content of the product launch marketing campaign."
Make Objectives Measurable
A good learning objective must be measurable. If the overall aim of the conference is to change attitudes, the objective should include a way to measure this, such as an objective "to ensure two-thirds of attendees hold a positive view of the new company marketing strategy." A training conference might have a measurable objective such as "to ensure that 90 percent of participants achieve accreditation following the training workshops."
Describe Benefits for Attendees
The learning objectives must communicate the outcome for conference participants. At a sales conference, for example, a good objective might tell attendees "at the end of the conference, you will have the product knowledge and market insight to reach or exceed sales targets for the product launch." A training conference might desire an outcome such as "by participating in the conference workshops, you will acquire the knowledge and skills to attain the second level of accreditation."
Set Performance Levels
Learning objectives should establish the performance levels attendees will achieve at the end of the conference. An objective "to ensure participants understand all the benefits of the new product" might be unrealistic. Instead, identify the most important takeaways from the conference, such as "to ensure participants can recall the three most important customer benefits of the new product."