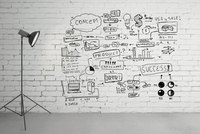 Freelancers looking for work opportunities online have been using sites like Elance since 1999. Due to the recent merger of Elance and oDesk, internet job postings on Elance involve over 500,000 active businesses and 2 million registered freelancers, also called Elancers. If you want to reach companies who are advertising jobs on Elance, the ability to write a compelling business proposal is a mandatory skill. Before submitting a proposal, you will need to join Elance and complete your online profile. While some Elance memberships involve a monthly fee, the basic free version is adequate to start.
Review the Client's Job Posting Carefully
Elance clients publish hundreds of job postings on a daily basis. Based on your skills, Elance provides recommended openings. You can also search for more possibilities based on specific keywords. Once you find an interesting post, read carefully — and then review it again for detailed requirements and qualifications. If you still like what you see and are qualified, complete an online proposal. To prevent proposal "spam" possibilities, Elance limits the number of proposals you can submit based on your membership category.
Relevant Experience and Qualifications
The first section in the Elance proposal requires you to summarize your relevant background. Be as brief as possible — but remember that this part of the proposal provides a critical "first impression" for a potential new client. You can also include attachments such as a portfolio of relevant assignments. You should resist the temptation to include too many portfolio links in your proposal. Pick one or two examples that are the most relevant to the assignment at hand. To eliminate automated responses and bidders not reading job postings completely, some Elance clients will specifically ask you to start your proposal with a particular phrase. For example, a job posting might say the following: To ensure that you have read the entire job description, please start your proposal with the words "Government procurement contracts."
Approach to the Job
The second section in your Elance proposal is where you must include specific information about how you will perform the requested task. Do your best to be personal and responsive to the client's request in a concise summary. Elance permits basic formatting such as bold highlighting and bullet points. In your proposal, ask pertinent questions that make it obvious that you have read the project summary. The immediate goal is to indicate that you have a fresh and innovative perspective about the client's problem.
Cost and Timing
This portion of the Elance proposal is where you summarize the time and money aspects of your bid. While you can also include this information in the "Approach to the Job" section, you are required to end your Elance business proposal with a specific cost and estimated delivery date. Regardless of the project size, Elance keeps 8.75 percent of the total amount billed. You will need to enter either a cost figure for your net earnings after the Elance fee or the total amount to be billed to the client — the proposal software will calculate the other figure for you. For example, if you want to earn $375 after the Elance fee is deducted, enter $375 in the "My Earnings" block and then the total amount billed to client will be determined automatically -- $410.96 in this example. When calculating your proposed cost, do not assume that you have to submit the lowest bid to win the assignment. Most clients on Elance are looking for a cost-effective bid -- the best skills for their money. When submitting your cost estimate, Elance allows you to check a "will submit bid later" box -- do not hesitate to use it.
Elance Insider Tips
There are several hundred Elance job categories involving highly-specialized fields. You are not competing with everyone -- just the people in your area of specialization. Although Elance might have several hundred thousand freelancers active on the website at any given time, most job opportunities typically involve from 10 to 50 responses for a project posting. If you are effective in face-to-face conversations, suggest a Skype video call to discuss the project. Some clients will eventually want to do this anyway -- you can get a possible edge by suggesting that it happen sooner rather than later. Write a concise proposal that avoids a "copy and paste" approach for all of your Elance proposals -- each Elance assignment deserves a unique proposal that is laser-focused on what the client needs.