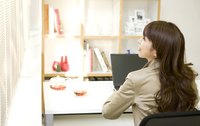 Customizing a balance sheet in QuickBooks varies slightly depending on the version of the program you own. However, the process is straightforward and involves navigating to the report center to generate a balance sheet. Standard features in the title bar of the balance sheet display make it convenient to customize the report.
Navigate to the Report Center
To generate a balance sheet, you will have to navigate to the report center from your homepage. There are several ways that you can do this, including selecting the report center option in your homepage title bar. There are a number of different report categories that you can choose from, but the balance sheet report is typically located in the financial category. Simply click on the financial category and balance sheet option to generate the report. There are various drop down menus that you can scroll through to change the data displayed in your balance sheet.
Adjust Title Bar Options
There are specific criteria that you can manipulate to customize your balance sheet. Perhaps the easiest is the date range, which you can adjust to any specific day of the year. Also, QuickBooks allows you to generate a balance sheet for a quarter and fiscal year, among other important reporting periods. You can change the columns on the balance sheet to display amounts by day, weeks or another time interval.