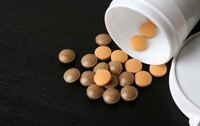 How to Use Caffeine Pills Safely. Caffeine pills are often used for weight loss, and as a pick-me-up later in the day. The average caffeine pill contains 200mg of caffeine, equivalent to two cups of strong coffee. They are not inherently dangerous but do require caution.
Things You'll Need
Use caffeine pills sparingly.
Drink eight glasses of water a day. Caffeine has a diuretic effect.
Take caffeine pills early in the day. Using them after 4 p.m. will make it hard for you to sleep.
Take extra calcium if you use caffeine pills more than once a week. Caffeine causes the body to underutilize available calcium.
Check your pulse while on caffeine pills. It should be less than 86 beats per minute. If your pulse is 90 or greater, don't use them again.
Taper caffeine pills slowly to avoid withdrawal effects, such as headaches and irritability.
Know that substituting caffeine pills for a good night's rest is a bad idea. There is no substitute for a good night's sleep. You may have a false sense of wakefulness, only to find yourself asleep at the wheel moments later.