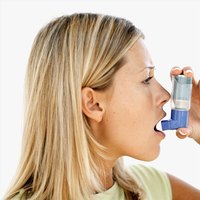 How to Stop an Asthma Attack. Sometimes an asthma attack can be stopped if you relax, use your inhaler and breathe effectively. Other times, treatment for an asthma attack requires a trip to the hospital. The key is proper planning, so you know what to do when an attack occurs.
Things You'll Need
Try not to panic. This will cause your muscles to get tense, your bronchial tubes to spasm, and your breathing to become shallow and fast.
Begin pursed-lip breathing. (See below.)
Use your peak flow meter to check the severity of your attack.
Use your inhalant - generally two puffs of a beta agonist every 20 minutes.
Get away from triggers such as pet dander, smoke, cold air and perfume.
Assess your response to treatment. Good response is a mild cough or wheeze; fair response is a marked cough and wheeze and mild use of rib and neck muscles to breathe. Poor response is a severe cough and wheeze, an inability to talk, and blue lips and nail beds.
Use your asthma medications as ordered by your doctor. Usually, the doctor will have given you exact instructions on what medicines to use during an attack. Generally, when you've had a good response, continue treatment with nebulizer every four hours. For a fair response, begin an oral steroid burst. For poor response, start an oral steroid burst and call your doctor or go to the emergency room.
Follow the medication instructions carefully to reverse the bronchospasms.