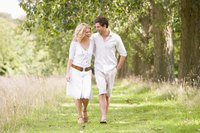 Imagine that where there was once a greasy bacon cheeseburger and pile of crispy French fries, there's now just a lone fry smothered in ketchup. When you overeat, you may experience a range of feelings -- guilt, frustration, even slightly sick. You must eat 3,500 calories to gain one pound, so that indulgent meal probably won't show up on the scale. But you may want to take steps to make yourself feel better and ensure that your extra-large meal doesn't make too much of a dent in your diet.
Go for a Walk
After a large meal, skip the alcoholic digestif or espresso touted to make you feel better and lace up your walking shoes. A study published in 2008 in the "Journal of Gastrointestinal and Liver Diseases" found that an after-meal walk, no matter how leisurely the pace, moved food through your digestive system more quickly. While walking can help you feel less full faster, neither alcohol nor espresso had the same effect.
Cut Back a Little
When you overeat at breakfast or lunch, cut back slightly the rest of the day. Eat small meals of mostly fruits and vegetables, registered dietitian Joan Salge Blake advises on WebMD. Resist the urge to starve after your binge, as it won't make you feel better. Rather, wait until you feel hungry, then enjoy a small meal, such as roasted broccoli with broiled salmon and a handful of blueberries.
Beat the Bloat
The starches, salt and sugar that you consumed in large amounts can make you feel bloated or gassy. Help yourself feel better by eating fiber-rich fruits and vegetables throughout the day and increasing your water intake. Add lemon to the water, as the fruit is a natural diuretic and laxative, according to "Fitness" magazine.
Don't Bother
While the natural laxative effects of lemons might make you feel better, don't bother with over-the-counter laxatives. These are designed to treat constipation by emptying the colon, gastroenterologist Cynthia Yoshida, M.D., says on the Huffington Post. However, the food you just binged on is in your stomach and has hours to go before it reaches the colon, where the laxative can have an effect. You can also skip supplements that claim to block absorption of sugar and fat. Nutrition consultant Mike Roussell says in "Shape" magazine that these blockers can actually increase gas, bloating and discomfort.