Legally, a 25-year-old man is an adult. But according to Jay Giedd, a neuroscientist with the National Institute of Mental Health, the 20s are in fact still a period of self-discovery and brain development. Feel free to give gifts that help your 25-year-old friend or family member discover who he is as he moves toward full adulthood, and also consider gifts that are just plain fun.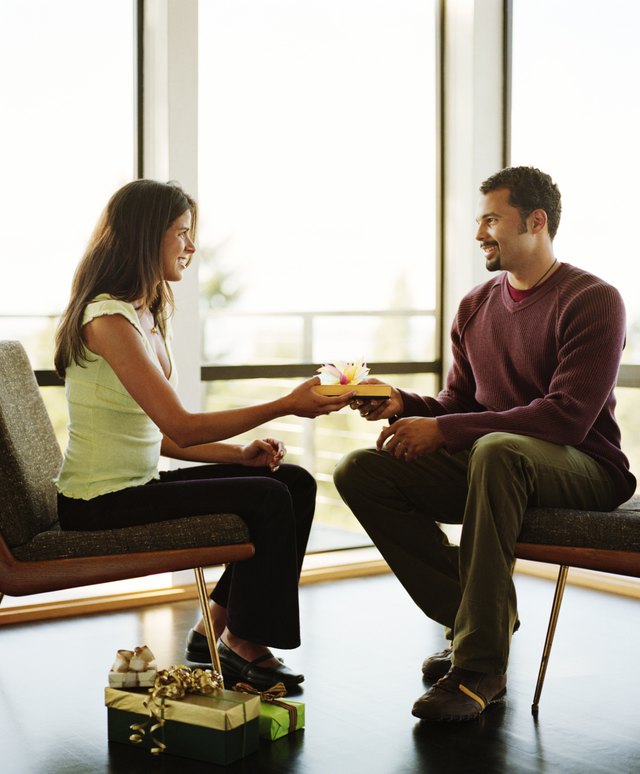 (Ryan McVay/Photodisc/Getty Images)
As with Americans of all ages, 25-year-old men likely spend far too much time staring at computer screens. Give him a break from that routine and open his eyes to new options. If your budget allows, give him a certificate for classes from a cooking school or an automotive repair workshop. Or, give him an open-ended certificate for a course at a local community college. For lower cost gifts, give him a subscription to a men's magazine or a book on a subject you know he's interested in, be it sports, skiing or business.
Risk-taking behavior that began when your friend or relative entered adolescence may still exist, so indulge that impulse with gifts that challenge him and are exhilarating. Strenuous sports equipment ranges from low-cost pull-up bars and hand grips to more expensive certificates for kayak rentals and gym memberships, with or without a session with a trainer. Tickets to a ball game or a session at a martial arts studio fall into the same category.
Gifts of clothing or shoes allow you to spend as much or as little as you want and help his budget go farther. On the low end of your budget are T-shirts from his favorite sports team or political party. If he plans to enter the business world, a nice shirt or tie would work, while heavy-duty work boots may be a hit with a newly commissioned carpenter or construction worker. To really wow him, give elaborate gifts such as designer sneakers or a leather bomber jacket.
There's always a new technology gift on the market that most 25-year-old men would go for. Physical activity trackers, ear buds, a mouse for computer gamers and computer keyboards are fairly inexpensive. On the high and very high end of your budget, consider giving a wireless speaker, a wearable video camera, a portable battery that runs on hydrogen, a music amplifier for headphones or bendable ear-hook headphones.
Promoted By Zergnet