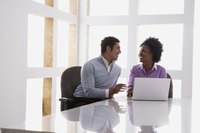 Today's workplace has expanded beyond the local office to sites around the world. Whether in person or across the cubicle, you may find yourself working with employees from different backgrounds and cultures who speak a different language and have a different view of the world. Understanding not only the language these people speak but also their worldviews will help you communicate more effectively with them to ensure you all meet the goals set for your business.
Learn Before You Teach
Learning as much as you can about a worker's cultural background can give you a head start on communicating effectively with her. Emory University professor Deborah Valentine, a co-author of "Cross Cultural Communication," advises that people from different cultures have different ways of trusting information based on how it's presented. Rather than an edict from management, for example, some prefer to receive instructions from an immediate supervisor or peer leader. Touching or greeting foreign employees in the wrong way or pointing fingers at them can get a meeting off on the wrong foot. For information about these cultural cues and protocols, read books, research online or talk to a current employee who's from the same background as the new employee.
Watch What You Say
Avoid jargon or acronyms, slang or inside jokes. Someone for whom English is a second language might not understand a joke or might take a saying literally. If you told someone to "knock it off" when you meant to ask them to stop doing something, he might believe you wanted him to push something off a shelf. Some terms are universal in fields such as computer programming, but if you're unsure, double check with the person you're talking to to make sure he understands your instructions.
Listen and Offer Feedback
One good way of communicating with someone whose first language or background is different from your own is to listen to what she says and restate your interpretation of what she meant. Ask for verification that you understood her correctly. You can ask her to do the same with you. This give and take builds rapport, helps you both improve your communication skills and minimizes misunderstandings.
Use Teams and Mentors
If possible, take a team approach to tasks and include foreign workers on your team. Aim for a mix of people from a background that's similar to that of the foreign worker. Members of these teams can learn from each other and help the foreign worker assimilate into the company. If you have a co-worker who is relatively new to the United States, consider mentoring him, or introduce him to another employee or someone in the community from a similar background. A mentor can help a foreign worker feel more comfortable and welcome in his new position.