It's often easy to feel guilty after eating, especially if you're looking at an empty pizza box, bag of chips and can of soda sitting on the table in front of you. But eating doesn't have to lead to guilt. By crafting a healthy diet, incorporating regular exercise and allowing yourself an occasional treat, you can step away from the table without regret.
Make Healthy Choices
A simple way to avoid post-eating guilt is to consume a diet you know is healthy. Fill at least half your plate with fruits and vegetables and get your protein from healthy sources such as a poultry, fish, eggs and nuts. Avoid foods that are loaded with fat and sugar, and determine the recommended daily caloric intake for your gender, age and lifestyle. Knowing you're getting the correct number of calories through a proper diet means you won't need to feel guilty about your dietary choices.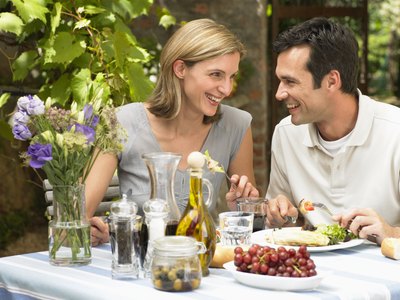 Get Moving
Stepping away from the table and getting some exercise can help you avoid post-eating guilt. Cardiovascular exercise, such as walking, jogging or dancing, is an effective way to reduce stress and promote a joyful feeling. The calories you burn while exercising can negate the calories you just consumed. For example, if you splurged and ate a 400-calorie snack, a 30-minute run at 5.2 miles per hour is enough to burn 400 calories if you weigh 185 pounds.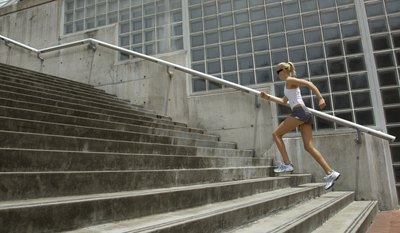 Seek Peace of Mind
Be aware of foods that cause you to feel guilty and limit your intake accordingly. Remember, too, that feeling guilty after eating is an unhealthy state of mind. Instead, give yourself permission to eat sensible serving sizes without regret. Replace negative, judgmental words you use about yourself with healthier sentiments. For example, instead of saying, "I really regret eating that cake," say, "The cake was delicious and I'm glad I stuck to a small piece."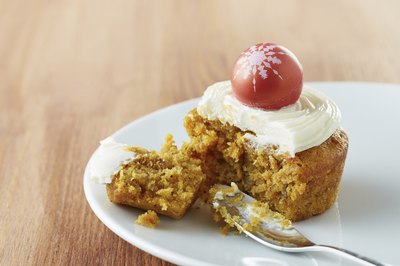 Treat Yourself a Little
Give yourself permission to enjoy a guilt-free treat on occasion. This approach is best when you eat healthily and exercise regularly throughout the week. Allowing yourself to splurge on some comfort food such as a rich dessert or a couple of drinks up to 10 percent of the time shouldn't be enough to harm your health goals. Knowing that you have a less nutritious meal on the horizon can prevent you from unhealthy eating the majority of the time, which lessens the risk of feeling guilty.