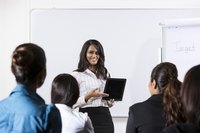 Speaking with conviction is critical to get your ideas across to those around you. By knowing your topic, maintaining confident body language, seeing it as a conversation and practicing these skills, you can speak with conviction.
Know Your Stuff
The brain has direct links between knowing what you want and being able to express what you want, according to 2013 research published in "Nature Neuroscience." In this study, led by cognitive neuroscientist Benedetto De Martino, the more confident a person was in his ideas, the more likely he was to hold to those beliefs over time as opposed to changing his mind, which can be seen as wishy-washy. Think through what you are saying ahead of time. If you aren't certain about something, research it until you know it inside and out. If you are more confident in your opinions and your choices, you are more likely to be able to speak about them with conviction.
Body Language and Eye Contact
Body language relays conviction and confidence, so it is critical to keep this in mind. Stand with shoulders back, and head up. Don't cross your arms or twiddle your thumbs. Make eye contact to show that you are comfortable with yourself and your ideas. If you have trouble with eye contact or fear that doing so might make you lose your train of thought, focus on the forehead of those you are speaking to as opposed to their eyes directly; others usually can't tell otherwise from further away.
Don't Get Wrapped Up in Convincing Others
It is difficult to speak with conviction if you think the goal is to convince everyone else to join your side of the debate. Especially in loaded social or political issues, so many factors ensure that no one can possibly be "correct" about everything. But this doesn't mean you're wrong either, so don't get upset about it. Look at speaking as a free expression of ideas where no one has to be right or wrong. By seeing your ideas and those of others on an equal playing field you are more likely to be able to speak confidently and get your points across, because the pressure of pulling people to your side is not the goal. This lack of pressure coupled with the knowledge that you can be just as correct as everyone else makes speaking with conviction easier. It also gives you room to learn new things and bolster your argument in more convincing ways in the future.
Just Do It
Some have trouble speaking with conviction because they are concerned about embarrassment, whether in small or large groups. Exposure tactics — or engaging in the behavior that makes you nervous — work well for those with fears of public speaking, notes research led by Michael W. Vasey, published in "Behavioral Research and Therapy" in 2012. However, those fears may resurface, depending on your attitude about it. Those who see public speaking issues as fears are less likely to get over those issues when compared with those who see public speaking discomfort as an attitude that can be adjusted. When it comes to speaking with conviction, fake it until you make it … and plan to make it.