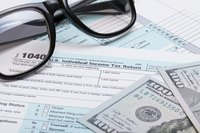 A limited partnership is a type of business entity that allows for passive investment by its limited partners. Typically, a partnership is created and an underlying investment is transferred by the partners to the partnership in the form of a capital contribution. A general partner actively manages the partnership. This job usually means managing the underlying investment, performing administrative duties, paying distributions and preparing the tax returns. Limited partners serve as passive investors. Limited partnerships are considered by the Internal Revenue Service to be "pass-through" entities for tax purposes. These generate ordinary income for partners that is included on their personal income tax returns via the use of the Schedule K-1.
Form 1065
The partnership files a Form 1065 tax return, which is used for informational purposes. It contains an updated balance sheet and income statement -- both prepared on a tax basis -- along with an attached schedule with information regarding each partner's capital accounts. Each partner's capital account gets updated to reflect the effect of the most recent tax year's ordinary income, cash distributions and returns of capital or additional capital contributions.
Schedule K-1
The schedule K-1 allows any of the partner's share of income, deductions or credits to flow through to his personal income tax return. It can be found on the IRS website in the "Forms and Publications" section, printed out and attached to your personal income tax return. The partnership is not necessarily obligated to compensate you for your share of the taxes generated by the partnership's ordinary income. Those types of issues are covered in the partnership agreement, and vary by partnership. However, it is common for partnerships to distribute cash to partners to pay their tax liabilities. Enter all the information regarding the partnership's different forms of income, deductions and credits. You will also enter your capital account balance, which is used to calculate your proportionate share of the partnership's income.