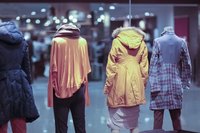 Boutiques face stiff competition from retail chains, discount stores and malls. But, as a boutique owner, your customers expect something more than the same old service and products they can find at the larger, less intimate stores. Meeting those expectations, rather than relying on a larger advertising budget, gives you numerous ways to improve sales in your shop.
Offer Personal Service
Customers who visit boutiques expect more personal service than the larger stores, so train your staff to immediately approach customers to offer assistance and to up-sell merchandise. Retail Minded Magazine suggests holding staff workshops to explain the features and benefits of your products. Encourage your clerks to recommend additional products, such as accessories to go with a new outfit. Don't just wait for customers to come in -- develop a contact list to let them know new items just came in that you think they'll want.
Create a Niche
If your boutique has something customers can't find anywhere else, chances are they'll come back for more. To find such a niche, talk to shoppers, customers and locals to find out what they're looking for. Look at boutiques and other retailers in your area to see what products are missing, and ask people if they'd buy those items if you stocked them. For instance, if you own a women's shoe shop in a community with lots of older baby boomers, find out if they need special widths or depths for inserts. That could be your niche.
Start Merchandising
Even a small boutique with little display space needs to use merchandising tactics to get more sales. If space allows, focus on the 20-foot semicircle of space customers see as they walk through your shop's front door, as this area has the most impact on shoppers, says Global Purchasing Companies. Use soft, direct lighting in that space to highlight items with signage to show their prices, features and benefits. The displays must be changed frequently so return shoppers enjoy a new experience each time and see new things to buy.
Evaluate Price
Sales could be less than you expect because you may be trying to compete with chain store pricing. Instead of that, look for ways to explain why your products have higher price tags says Etsy, a website that sells handmade or vintage goods. Include this information in the description on the price tag or in signs on the shelves or in displays. If you sell gift items, find out what price point people expect to pay for such an item, and boost your prices accordingly. Otherwise, Etsy suggests people may keep looking if the price seems lower than the amount they feel they need to spend on the gift.