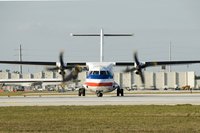 AAdvantage Miles are accumulated by members of the American Airlines loyalty program and used toward fares and upgrades on any domestic or international flights. Members can also use miles for hotel stays, rental cars and other products and services included in the AAdvantage program. Earn miles for free by traveling on American Airlines, participating in social media challenges and taking advantage of offers from participating retailers.
Earn Miles with Flights
By flying American Airlines you accrue free miles in your AAdvantage account. Miles accumulate with every flight taken; the number of miles earned corresponds to the length of the flight, class of service and fare paid. American has partnered with other airlines as well, so you can earn miles while flying on international carriers, including AirBerlin, British Airways, FinnAir and Japan Airlines.
Accept Miles from Transfers
When a friend or family member has AAdvantage miles that he doesn't plan to use, he can share or gift those miles to you. It will not cost you anything, though a transaction fee is assessed to the account holder who is giving you the miles. You cannot accept more than 100,000 miles from any one account in a single year.
Earn Miles While Traveling
American Airlines partners with a number of hotels and rental car agencies to help you accumulate AAdvantage miles for free. Stay at Hilton properties, including Hilton Garden Inn, Hampton Inn and Embassy Suites, or hotels belonging to the Intercontinental Hotel Group, which include the Holiday Inn, Staybridge Suites and Crowne Plaza. Marriott Hotel and Starwood Hotel brands are also eligible. Provide your AAdvantage number at the time of reservation or check-in, and points will be converted to miles, then added to your account. The number of miles you receive depends on your length of stay and class of room. You can earn an average of 50 miles per day with car rental companies, including Budget, National, Avis, Thrifty and Alamo.
Earn Miles while Shopping
Shopping and dining with the right retailers and restaurants results in free AAdvantage miles. Make purchases through the American Airlines SkyMall or online through the eShopping Mall. Miles are rewarded when you order flowers online and buy products from retailers such as Bose.
AAdvantage Passport Challenge
Following American Airlines on Facebook and answering random trivia questions in the Passport Challange can earn you free AAdvantage points. Play to earn points, then share the trivia questions and your answers with members of your social network to receive additional miles. Just visit the American Airlines Facebook page and provide your name and AAdvantage number.