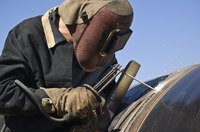 Having welding equipment and knowing how to use it isn't enough to start a pipe-welding company. Working on gas and oil pipelines is a difficult, sometimes dangerous specialty and companies that need that kind of service pay well for qualified, certified individuals as a result. Before signing on the dotted line, the company is likely to insist on proof that you have the proper qualifications.
Certification Station
The American Welding Society (AWS) offers a half-dozen pipe-related certifications based on the position of the pipe -- horizontal or fixed vertical pipe, for instance. Its 6G certification is the toughest and most desirable. If you can pass it, you're qualified to work on any pipe position. If you want to promote your company as qualified for the toughest jobs, it's more important to certify for 6G than anything else. After you obtain the certification, consider apprenticing yourself to an established pipe-welder to build your contacts and credibility.
Licensing Requirements
Depending where you want to work, AWS certification may be only the first step. Some state governments require you certify with them as well. Oklahoma, for instance, requires you become state certified at a state weld-test facility. Washington state requires you register online as a specialty contractor and take out a state business license. Local governments can insist you take out a city or county license as well. New York City has license rules in addition to those imposed by New York state.
Near or Far
Once you're certified, you have to think about geography. Your welding company can pick strictly local jobs if there's enough business in the area, or you can go mobile, offering your services wherever you're qualified to work. If you're willing to travel, be ready to travel fast. Pipeline companies, for example, generally expect welders to be ready to relocate in as little as 24 hours after being awarded a contract.
Reaching Out
Your resume should list all your certifications and apprenticeships as well as anyone you've ever worked for in the business. If you don't have much professional experience, working as an employee, even starting at the bottom, can build your credibility. When you think you're ready, contact people you know in the industry or go to one of the many welding job boards. Some of them look for employees while others are open to freelancers. When you do a good job, ask your employer if you can use them as a reference for future work.
Growth Spurt
If you reach the point where you're getting more offers than you can handle, it may be time to take on partners or employees. Give a prospective employee the same close scrutiny employers give you. Confirm that the welder has certification. Quiz her about how much job experience she has. Have her perform a welding test. On-site tests are standard in the industry, even when someone has first-rate qualifications on paper.