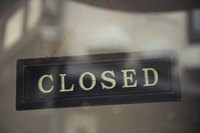 Closing down a business is an emotional process, both for you and your customers. Your customers have developed a relationship with your business and may rely on it as part of their everyday lives, so when the time comes to close down, you owe it to them to let them know. By doing so in a tactful way, you ensure that you end things with your customers on good terms and that they will remember you and your business fondly. This goodwill might be useful for you in the future if you open a new business and want to contact your old customers.
Things You'll Need
Mailing list
Catalog of customers to whom you owe services or who owe money to you
Signage materials (poster board, markers, tape)
Contact customers on an individual basis if they owe you payment or you are still completing orders for them. If you still owe services, let them know if and when you will complete their order. If not, make arrangements to return any deposits or payments received.
Post the message that you are going out of business on your web site, and if you have a mailing list, send out an email notification or a letter. Thank your customers for their business in the past and wish them well for the future.
Hang a sign in your place of business announcing that you are going out of business so that visiting customers get the news. Be prepared to answer questions about why and when the business will be closing for good.
Hold a "going out of business" sale in the final weeks before closing. This not only alerts customers to the news, but also helps rid you of extra inventory.