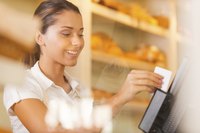 Part of the Bon-Ton family of department stores, Younkers serves customers in stores across seven Midwestern states. Younkers customers can earn rewards by applying for and shopping with a Younkers charge card, issued by Comenity Bank. You can only apply for a Younkers card in-store and online.
Card Features
For every $200 you spend in-store or online, you receive a $20 reward card that you can put toward your next purchase of $50 or more. Additionally, card holders get coupons, email promotions and special birthday offers. The Younkers credit card has two levels -- signature and elite. All cardholders start with signature status and earn elite status and additional rewards after spending $1,000. Elite card holders receive all the signature-level benefits as well as free shipping and additional coupons and promotions.
Where to Apply
To get a Younkers credit card, you can apply in-store through a cashier or by visiting the customer service department of that store. You can also apply online via the Comenity Bank and Younkers credit card websites. Applicants must be at least 18 years old and have a valid, government-issued ID like a driver's license or passport when applying in the store. If you experience any difficulties during the online application process, you can call the customer service number at 1-855-567-7745.
Information You'll Need
Both the in-store and online application ask for the same information, including your full name, Social Security number and date of birth to verify your identity. You'll also provide your annual income, address, phone number and email address. The online application requires you to click the check box that you agree to the terms and conditions and serves as an electronic signature, binding you to the card contract. The in-store application requires an actual signature.
Additional Card Features
During the application process, you can also opt to include one authorized buyer, who can make purchases with the card but is not responsible for the account. After Comenity approves your card, you can add up to four more authorized buyers to your card through your online account. Younkers and Comenity provide an online portal for your card where you can receive statements, pay bills and manage your account online. Additionally, you can download the Younkers mobile virtual card app on your phone. The mobile virtual card app allows you to use your phone to pay for purchases and manage your account, pay bills and view statements.