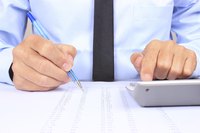 A balance sheet is a financial statement that details a company's financial position as of a certain date, such as the end of a fiscal quarter or year. It is formatted so the company's assets are balanced against its liabilities and shareholders' equity. A company's total assets always equal its total liabilities plus shareholders' equity. In comparing balance sheets, focus on using tools that maximize comparability. Select an appropriate benchmark for comparison, as well as appropriate financial metrics.
Common Size
Comparisons must always be apples to apples, or uniform. Preparing common sized balance sheets is one way of ensuring consistency. It involves expressing each balance sheet line item as a percentage. Each asset is expressed as a percent of total assets, and each liability and equity line item is expressed as a percent of total liabilities and shareholders' equity. At a minimum, this offers an alternative comparison to amounts in dollar terms, but it generally is more meaningful as well. For example, you can analyze cash as a percent of total assets or historical debt as a percent of liabilities and equity.
Ratio Analysis
Financial ratios are an important tool for comparing financial statements. Using the balance sheet, financial ratios can provide important information about a company's liquidity and leverage and the efficiency with which it uses its asset base and manages its liabilities. It is especially useful to combine balance sheet items with income statement items to calculate profitability and return ratios, such as return on assets and equity. Return on equity is a key measure of shareholder wealth.
Benchmark Analysis
A benchmark analysis provides a frame of reference against which a company's balance sheet and balance sheet ratios can be compared. It requires finding benchmark financial data from a peer group, such as competitors. Peer groups must be highly comparable with respect to size, line of business and profitability for the comparison to be meaningful. This data can be difficult to obtain, but the Risk Management Association publishes its annual statement studies, which contain benchmark financial statistics broken down by industry. The studies contain common size balance sheet data and financial ratios. If your subject company is a bit larger, you may be able to compare it against publicly traded companies, for which balance sheet information is available via these companies' Securities and Exchange Commission filings.
Drawing Conclusions
So much financial data are available for comparison that you may find it challenging to arrive at conclusive results. Make sure to analyze the data as thoroughly as possible. This means common sizing the balance sheet and calculating financial ratios going back three to five years -- or more if necessary. Look for upward or downward trends. If none are evident, erratic or volatile results may indicate a higher level of business risk. Categorize the financial ratios and common size data into the following categories: size, growth, profitability, liquidity, leverage and turnover. If your subject company consistently exhibits higher financial ratios than its peer companies, this implies lower business risk.