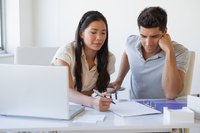 Trailing returns are useful in determining an appropriate investment vehicle. Although they should not be relied on as the sole measure of an investment's suitability (risk tolerance, time horizons and current economic conditions are some of the other critical factors to consider) they can provide key data to gauge potential. Trailing returns are also flexible, with the ability to measure performance over key time frames, such as during bull and bear markets.
Determine what specific attribute of an investment you would like to measure. For example, to understand how a particular mutual fund performs during poor economic conditions, use a trailing return of one year, such as October 2008 to the end of September 2009.
Compare trailing returns with like investments to get a good measure of performance. Some investors make the mistake of comparing entirely different investment types or classes (bonds versus stocks, for example) that have attributes that perform differently in different market conditions.
Selecting the appropriate time frame: three months, six months, one year, three years, five years, and 10 years and since inception are fairly common return periods. Subtract the change in the current net asset value of a mutual fund or the price of a stock or bond from its value on the date selected and divide it by the initial value. For example, if the NAV on Jan. 1, 2010, was $10 and the NAV on Dec. 31, 2010, was $12, the 12-month trailing return is 20 percent ($12 - $10 = $2, then divide $2 by $10). The same calculation will apply for whatever time frame you choose.
Determine if interest, dividends, realized capital gains and investment charges (if any) are factored into the trailing return calculation. To get an accurate view of a trailing return, it should reflect how much money was actually invested (less charges, loads or commissions paid to invest) and all the ways the investment generated returns, such as dividends or interest. If these factors are not considered, the trailing return will not accurately reflect the investment's monetary value.