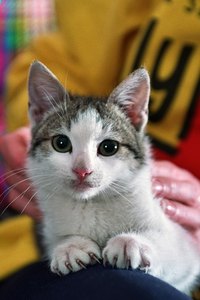 A feline urinary tract infection (or UTI) is a condition caused when bacteria enter and grow in the bladder and urethra of cats. Left untreated, feline UTI's can lead to kidney disease or even fatal kidney failure. A cat with a UTI shows varied symptoms including inappropriate urination (urinating outside of the litter box), foul smelling urination, painful or bloody urination and excessive licking of the genital area. There are many treatment options for a feline UTI, offering your cat plenty of effective options to be free of urinary tract infections in no time.
Things You'll Need
Antibiotics
Pain medication
Soap and water
Fresh litter
Water dish/cat fountain
Cranberry juice
Moist cat food
See your veterinarian for a cycle of antibiotics to help clear your cat's urinary tract infection. Depending on the severity of the infection, it may be helpful to have your veterinarian prescribe some pain medication to ease any discomfort your cat may feel due to the infection.
Clean your cat's litter box, as it helps prevent the spread of harmful bacteria and also encourages your cat to use the litter box more often. Empty the box completely and wash it out with soap and water, then refill it with fresh cat litter.
Provide your cat with plenty of fresh water to encourage frequent drinking (which helps flush harmful bacteria from the urinary tract). Wash and refill your cat's water dish often, or invest in a cat drinking fountain to keep a constant supply of clean water available.
Add 2 to 3 drops of unsweetened cranberry juice to your cat's drinking water during treatment of the UTI. Cranberry juice neutralizes the bacteria that cause UTI's.
Switch your cat to a moist (canned) food diet. The added moisture provides your cat with another way to keep the urinary tract flushed, providing both immediate and long-term prevention of feline UTI's.