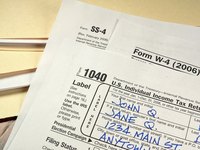 Taxable wages, commonly referred to as taxable income or taxable earnings, are broadly stated by the Internal Revenue Service as both earned and unearned income. Knowing how to categorize your earned and unearned income so you can figure out your total gross earnings can take lots of time looking through old receipts and pay stubs. Before you determine how much taxes you owe to the IRS, figure out the tax bracket you are categorized under. Knowing the tax bracket will allow you to establish what exemptions and deductions for which you are eligible.
Track your total gross earnings, earned and unearned. Salary or wages, commissions, vacation pay, company benefits, bonuses, unemployment benefits and tips are considered "earned" gross earnings. Company benefits comprise company items such as laptops, cell phones, company cars and so on. Unearned income are generally, but not limited to, gifts, royalties, alimony, gambling prize money, social security payments and more (see Resources for an unearned income list). Add the earned and unearned income together to obtain your total gross earnings, or adjustable gross income.
Identify your tax bracket. Tax tables are available on the IRS website to help taxpayers find out their tax brackets (see Resources). Your deductions and exemptions will be determined by which tax bracket you are under.
Subtract your valid exemptions and deductions from your AGI to figure out your taxable wages. Deductions include child care expenses, property taxes, medical expenses, student loan interest and more. Check with the IRS website to find out which deductions your tax bracket qualifies you for. Exemptions can also be determined by your marital status and household size.