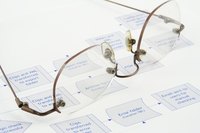 Project management and scheduling can be a challenging and thought-intensive process when plotting time, materials and resources in the quest of reaching a given objective. PERT diagrams are very useful during this activity, as they display graphic indicators that chart the progress of any project. You can easily see the duration of each task associated with the project, the resources required for reaching each milestone and the various dependencies at each juncture. The critical path is measured by tracing the longest line or determining the length of the longest task or series of tasks between the project's start and completion.
Determine the individual activities of each task, departments and individuals (resources) responsible for that specific activity within the project. Assign numbers to these tasks and record the expected duration in hours.
Record the "task dependencies" of each task. This will be an activity that cannot begin its start duration until a preceding task has been either started or completed. As an example, in a specialty candy manufacturing factory, a chocolate mixer cannot start the mixing process without getting the needed quantity of processed almonds, which is the responsibility of a prior task. The wrapper cannot begin until they get the candy. This is considered a "critical path." Task C cannot begin until Task B is completed, and Task B is dependent on Task A.
Draw a circle on an 8.5-inch-by-11-inch sheet of paper and within the circle put the letter "A." Directly next to the first circle, draw another of equal size and label it "B." Draw an arrowed line from circle "A" to circle "B." Do the same for yet another circle labeled "C." Continue with two more circles labeled "D" and "E." You should now have five circles labeled "A" through "E" with arrowed lines flowing left to right. Put a small caption beneath circle "A" titled "Start", and put a caption directly beneath the "E" circle titled "Finish."
Put the duration, in hours, for each task, as defined by the responsible departments and individuals mentioned earlier, just below the arrowed lines connecting each circle. As an example, the duration of "A" to "B" may be 11 hours and the duration of "B" to "C" may take 5.5 hours. Complete the example by entering a 2-hour duration for "C" to "D" and 1.5 hours for "D" to "E." These last two can be thought of as inspection and bulk boxing, respectively.