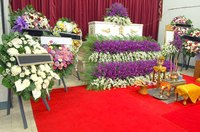 A typical funeral costs about $6,500 in 2011, according to MSN.com. That price does not include a burial plot and many "extras" like flowers or limousine service. Some people have difficulty coming up with that kind of cash, especially following an unexpected death. Emotions tend to run high after the loss of a loved one and some people feel pressured into spending more than they can really afford.
Prior to purchasing any additional goods or services, check to see whether your deceased loved one purchased a pre-paid funeral plan. These pre-paid plans often do not cover everything. Even if your loved one purchased such a plan, you may find yourself needing to cover some additional costs.
Use a life insurance policy to help cover funeral costs if your loved one had insurance and named you as the beneficiary. Funeral homes will usually help you do this. Funeral home employees often ask you to bring in the policy and they phone the insurance company to make sure the policy is still in effect.
Contact the Veterans Administration if your loved one was a member of the armed forces. He may be entitled to free burial in a national cemetery, although you will still need to cover mortuary fees and other costs associated with his funeral.
Contact the Social Security Administration if your loved one received or was eligible for Social Security benefits. The Social Security Administration pays a lump sum of $255 to qualified persons that can be used for funeral expenses.
Pay cash for funeral costs if you can, if there is no pre-paid plan or insurance or if those things don't cover the full amount.
Use a credit card for funeral costs if you must, but try to choose a card with a low interest rate.
Ask funeral home employees about more affordable options if the prices they present seem out of your range. Don't feel embarrassed or guilty or think you will be letting your loved one down if you don't purchase a top-of-the-line casket with all the trimmings. You can contact other funeral homes to compare costs.