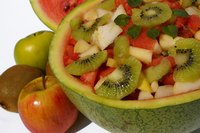 Diabetics and those with restricted sugar intakes have traditionally looked at a reduction in high calorie food consumption to maintain their blood sugar levels. However, new research has led to a different food classification system that includes both the amount of carbohydrates in foods and the way that food affects blood sugar levels. The glycemic load index assigns numbers to foods according to how they affect blood sugar. The lower the number, the higher the stabilizing effect on blood sugar. By planning your meals according to the glycemic load index, you will see improved overall health benefits.
Identify those foods which rate low to medium on the glycemic index scale. Low foods, rated 55 or lower, include bran cereals, a wide variety of beans and high fiber fruits and vegetables, with the exception of potatoes. Medium foods, rated between 56 and 70, include whole grain foods, brown rice, bulgar, barley, fresh fruit juice, rice cakes and oatmeal.
List the foods you like to eat for each meal, breakfast, lunch and dinner.
Plan meals accordingly, keeping glycemic load values in the low to medium range for each meal, up to a maximum of 70. Include fish, poultry and lean cuts of meat sparingly, adding beans and nuts for protein. Foods with a low glycemic value will help reduce the effects of those with high values. You can eat potatoes, home-made breads, treats and other foods with a high glycemic load occasionally. Exercise also increases the need for foods with a higher glycemic index.
Substitute foods with high glycemic load values for lower foods, if needed. For example, grapefruit has a glycemic value of 25, while pineapple's value is 66. By replacing high glycemic foods for those with lower glycemic values, you can keep your meal total in the lower range.